Home Care fumigates cargos and other material for export. Fumigation is done to make sure that the commodities are ISPM 15 complaint. Export fumigations services offered by Home Care are backed by the years of experience that the company holds. We have a tremendously skilled team of experts who have abundance of knowledge about the pest control services.
Pest management is extremely important for the export vehicles and commodities. Therefore, we only hire certified professionals to take care of the export fumigation services in Gujarat, Ahmedabad or any other part of the country.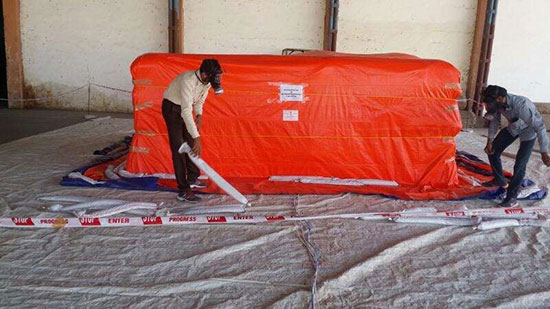 Why to choose Home Care for export fumigation services?
Home Care is considered as one of the leading pert management services providers. We offer customized export fumigation services in Ahmedabad, Rajkot and other parts of the world. Our services include the fumigation of a large variety of commodities. Hence, the export fumigations servicesincludeall the storage and transport commodities, like the crated goods, silos, shipping containers, palletizedmaterial and many more.
Our in-house, certified and skilled fumigation technicians
Export Fumigationrequires extremely skilled technicians. Thus, Home Care has hired the best set of people that have immense understanding of the top fumigation techniques. The service providers understand the key requirements of the clients and based on the specific needs of the customers, they make intelligent pest control plans. They find out what products work and what doesn't. Home Care is regarded as one of the best export fumigation services in Rajkot as the company has on boarded the most talented pest control specialists.
Most of the pest management techniciansunderstand what category of pests may harm the commodities and cargos. And, based on the type of pests, the most effective material is sued to eliminate the pests. Also, the use of chemicals is based on the geographicallocation. Though, being a top export fumigation services in Ahmedabad, Nex Cork keeps evolving day in and day out. Also, we have curated and identified latest pest control techniques.
We use only environmentally conscious pest control material
We would not want to harm or damage the environment. Therefore, we try and use products that do not harm the environment. Most of the products that we use for export fumigation are eco-friendly. But, they are very strong and effective as well. The export fumigation services in Gujarat are tailored to eliminate even the slightest of possibilities of breeding pests.
Get in touch with us if:
You want to eliminate the pests from your cargos and commodities
You want to opt for advanced export fumigation services
You want to save cost
You want to control the pest without damaging the environment
Home Care has been constantly improving to make sure they we offer only the top export fumigations services in Rajkot, Ahmedabad and other parts of the country.